Adjusting
If the brake disks are getting thin, it will be difficult to get the hand brakes tight enough. If so, replace the brake disks. (The brake disks shall be minimum 18 mm thick.)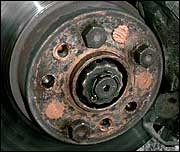 NB! The brake disk must be immobilized with three wheel bolts. If you use bolts for aluminum wheels: Put on 13mm spacers (nuts).

To adjust 4x 11 you can use a large flat screwdriver or a square awl where the outer tip is removed. Or make yourself a special tool of 4.5 mm thick metal: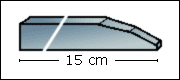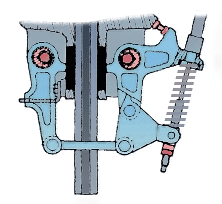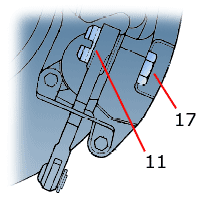 The drawing is borrowed from the Citroën CX' service manual
Jack up the front of the car, put it on stands, take off the road wheels and put the gear stick in neutral.
The hand brakes must be disengaged.
Unscrew the lock nut and the adjustment nut on the wire both sides (2 11mm wrenches + small spanner to hold the end of the wire).
Loosen 4x17 (17mm).
Adjust 4x11 (clockwise seen from behind) and tighten 4x 17, first at the outside, then on the inside. (4x 11 must be tightened/turned just so much that you can easily rotate the brake disc with your hands with a little resistance. Be sure not to touch the surface of the brake disc, hold onto the edge.)
Pull out the wire first on one side, and then on the other side. Measure the difference and screw back on the adjustment nut and lock nut on both sides. (If the end sticking out on the left side was 5 mm longer than the one on the right, it shall still be sticking out 5 mm more wire on the left side.)
Test that you can turn the brake disks around with your hands, and that they (the brake disks;) are completely clean.
On alloy wheels the end of the wire might hit the rim. If so you can try to shorten the small set screw slightly (2 8mm wrenches) and realign. If that does not work either, you can pull out the wire and put on a few washers or a nut or similar.


Tighten 4x17 7.5 mdaN (75 Nm). Tighten the lock nut 1.5 mdaN (15 Nm).

Click on the picture for a closer look.

Put grease on the wire and pull a plastic hose onto it so that the hose will remain under the trigger guard.